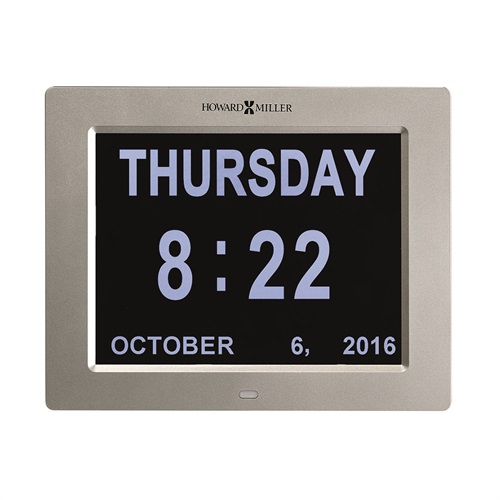 This clock is designed to help people suffering from memory loss or dementia, poor or impaired eyesight, or those who have a hard time comprehending abbreviated words by displaying the time and clearly spelling out the full day of the week, month, and date in large, bold letters. A second display option simply shows the day of the week and the period of the day: Morning, Afternoon, Evening, or Night.
8.5"W x 1"D x 7"H
Non-glare, 8" LED-backlit display with automatic day and night mode.
Wall-mounted or tabletop display with built-in folding easel stand
AC powered time only; Includes UL listed AC power adapter
Eight language options: English, Spanish, French, German, Italian, Polish, Dutch, or Welsh
Adding...
Removing
Processing...
{{productContent.processedProductsCount}} of {{productContent.model.matrixProducts.length}}